One evening, a few weeks ago, I sat caught in the middle of a traffic jam and the pouring rain. One of the (many) things that usually piss me off is riding jeepneys on rainy days. The windows are all draped with thick plastic and the general lack of air and space triggers my slight claustrophobia.
Luckily I was in one of the seats at the very end of the jeep. Staring out at Taft Avenue, I noticed a pedicab driver, singing at the top of his lungs as he pedaled by, completely drenched in the rain. He whooped as he swerved and passed under the torrent cascading from one of the LRT station roofs.
It's crazy to admit, but admired the pedicab driver--or rather, I admired the freedom he exuded. The image of me, crammed inside a jeepney for fear of getting wet in the rain, was one that I felt defined my life in general. I'm confined by rules, by things I've been led to believe I should be doing.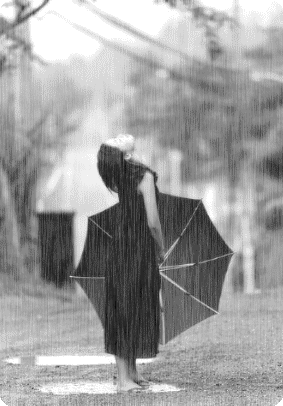 Click for source.
Lately I've been catching myself thinking about living more. I've grown tired of my rules and my duties, of always doing the right thing even when it makes me miserable. I want to do crazy things--dance in the rain (Gene Kelly style), stay out late, go on vacation, pretend to be a rock star, go on a road trip, or talk to total strangers. Or something, anything out of the ordinary.
It's the way I've been raised, and it grew on me, I guess. I've always had to be responsible--for myself, and for people around me. I've always been wary of letting people down, that I sometimes find myself in situations I'd rather be out of.
I have this fear that I'll be stuck in the routine my whole life. I know the responsibilities will just continue to pile up, and I want to get away--even just for a while--before I have to deal with them again. For once in my uptight life, I want to run away and come back, just to feel that I've changed somehow.
But for now I just have to make the best of what I've got, find small ways of escaping the ordinary. And someday I'll find the means, and or the courage, and maybe a buddy who'll go crazy with me.